iBand+: EEG Headband That Helps You Sleep And Dream!

Experience lucid dreams – Improve sleep with music that intelligently adjusts to your sleep phases – Wake up refreshed, every time!
Dreams and sleep play an important role in our health and happiness. While sleep rejuvenates the body, dreams rejuvenate the mind. Meet iBand+, the headband that helps you sleep and dream!
A truly smart wireless Bluetooth EEG headband, iBand+ senses your brain waves with laboratory level accuracy. It also conceals special health tracking sensors to measure body movement, heart rate and body temperature.
iBand+ tracks and analyzes information about your brain and body throughout the sleep cycle with an advanced auto-learning software algorithm. It then uses this information to play and intelligently adjust the audio-visual signals to:
– Induce lucid dreams
– Help you fall asleep easily
– Wake up naturally…
Read more: & dailymail.co.uk
– Could We Record Our Dreams?
– Muse Brain Sensing Headband
– LUCI – Advanced Lucid Dream Inducer
– Neurotechnologies
– Neuro-Gadgets
– Neuroscience Books
– Mind Reading
– Michio Kaku – The Future of the Mind
– Minimize Jet Lag with AYO Smart Glasses that Mimic Sunlight
– LED Lights Will Ensure Healthy Sleep For The Astronauts
– Have A Rest In GoSleep Pods Installed At Abu Dhabi International Airport
– Sleepbox Hotel Offers Unique Experience For Travelers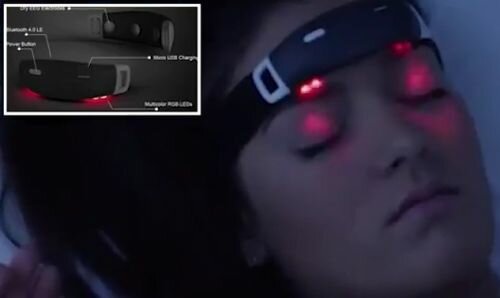 More Posts: